Log splitter operation and safety rules
What to remember when splitting wood
Once we have assembled our drill splitter, we have nothing left to do but start using it. However, we must learn how to use it correctly so that our work runs smoothly and safely, which should be our priority in woodworking.
When starting work, we must make sure that the WEDGE* is properly mounted (Fig. 1) and that our splitter has all the necessary covers for moving parts. Once we have done this, we can proceed to connect our splitter to a power source, which can be a tractor or an electric motor, depending on what we choose.
Fig. 1
* The wedge is absolutely required to maintain safe operation of the drill splitter as it prevents the wooden block from rotating during splitting. If the log is turned, the individual splitting elements may be damaged (Fig. 2). Do not start the log splitter before installing the wedge!
How to set the log properly when splitting
After connecting and starting the log splitter, we can start woodworking. Of course, the first step is to transport the log and set it in the right position (Fig. 2). At the beginning, many people make the basic mistake of trying to split logs horizontally, in a position in which, due to the enormous forces, we can damage individual elements of the splitter such as bearings, roller or drill, and in the worst case we can destroy the whole splitter. The correct setting is placing the log vertically in such a way that the cut (flat) part adheres to the table, thanks to which the split wood will be able to spread freely from side to side.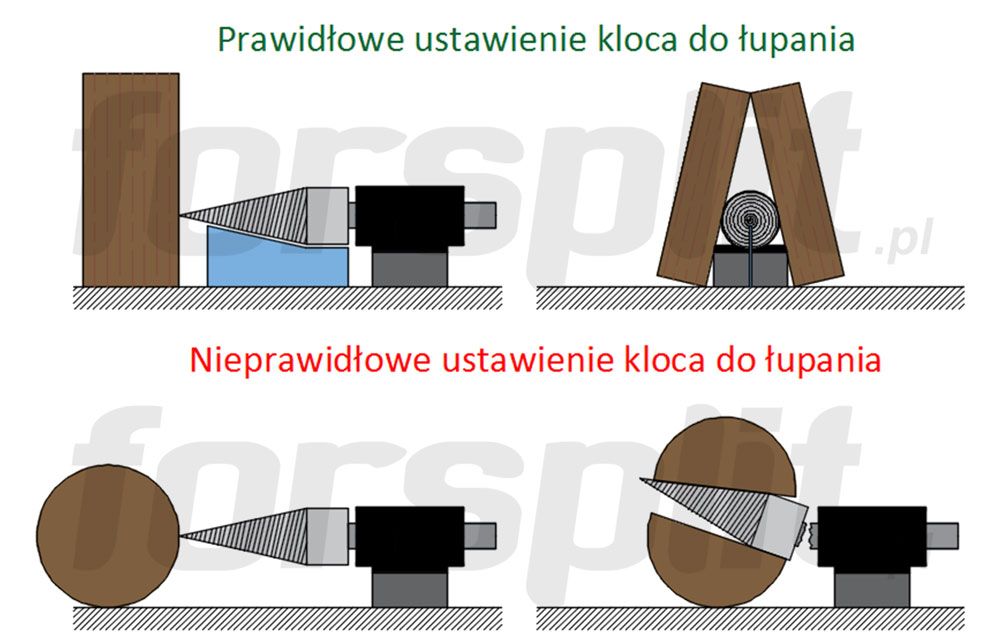 Fig. 2
After correctly positioning the log carefully push it on the table towards the drill, for this purpose our splitter must be equipped with a metal frame that will ensure us safety. Do not press the log against the drill with your hands, especially holding your hands on the sides of the log, because if it is picked up or turned it can pinch our fingers. As soon as we split the first piece, we carefully reject it aside and move the block back, repeating the procedure until we split it as many pieces as we need. It is worth remembering to prepare a place before starting work, where we will reject splintered pieces of wood, as well as to stock up with work gloves and protective glasses.
If we follow the above guidelines, as well as the basic principles of health and safety at work, working with a splitter will not only be effective and safe, but also very pleasant and will save us a lot of time and energy.
See article: How to build a wood splitter?